Please sign in so that we can notify you about a reply
Turn any shirt into a nursing shirt with the Undercover Mama nursing tank. No more fiddling with awkward nursing shirts. Wear this clip on nursing camisole with any shirt and you'll instantly have a comfortable, modest nursing option that works! Just clip the Undercover mama nursing camisole to any nursing bra. Then, when you release the bra cup for nursing, the camisole moves with the bra cup but keeps your stomach covered. No matter how much baby wiggles and squirms, you stay covered. General rule, one size down from your shirt. If you wear a medium shirt, you need a size small Undercover Mama. Try the Undercover Mama, it really works! You'll love having an endless variety of nursing tops since the Undercover Mama tank turns any shirt into a nursing top. You'll save money - and save yourself from the boring nursing tops that seem to be everywhere!
Undercover Mama tanks attach to any bra! Each shirt includes two attachment options.
SHOP WITH CONFIDENCE! Undercover Mama undershirts are constructed of quality material and are made to last. Your Undercover won't bunch up, slide around, or ball up after washing.They fit where you need them to while keeping you covered in style. The generous length allows you to tuck it in or go for a layered look. "Make ANY Shirt a Nursing Shirt"TM with Undercover Mama.
The basic black is our most popular color. It looks sleek under your favorite top and adds a natural slimming effect!
SIZE GUIDE -The Undercover should fit snugly. We recommend that you order a size smaller than your regular shirt size. (I.E. Regular shirt size medium, get the Undercover in size small.)
Bra not included. ***PATENT PENDING***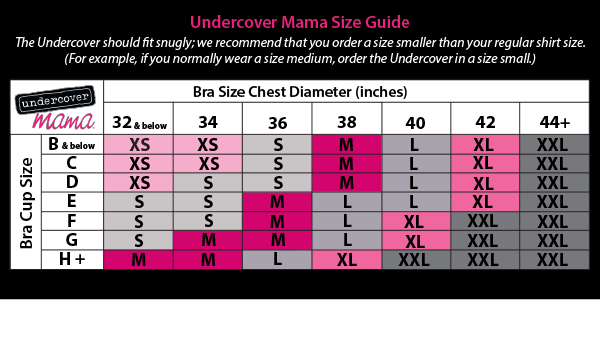 Our layaway offers you the opportunity to get the products you need on a payment plan. Using cloth diapers saves money, but we understand that getting your initial cloth diaper stash can be hard when you are short on cash. Our cloth diaper layaway plan allows you to spread the cost out over 3 months.
Select the items you need, then use the voucher code "LAYAWAY" when you checkout. You'll only be charged 25% of the cost of your order. I will set your items aside until they are paid for.
You will then be responsible for paying 25% each month for the next 3 months. If more than 90 days are needed please contact us at lisa@littlefornow.com to make arrangements.
You can make payments on your layaway items with PayPal by putting "Layaway" and your name in the subject of the payment. Payments can be made using Paypal. The email address for Paypal is sales@ecofamilyinc.com. You can also pay with check or credit card. Please call us at 1-877-536-0850 for more information.
If you need to cancel your layaway order there will be a re-stocking fee equal to 25% of the total cost of the order. Any additional money paid over the 25% will be refunded. The re-stocking fee is to cover the time we held the items for you and they were not available to be sold to someone else, credit card/PayPal fees and staff time to enter and process the order and cancellation.
Certain items are drop shipped (cosleeper, etc.) from the manufacturer. These items are not actually ordered until the payment is made in full. In rare cases a manufacturer may change or discontinue a product during the payment period. If this happens and the product or a reasonable substitute (such as a different color) is not available then a refund will be issued.