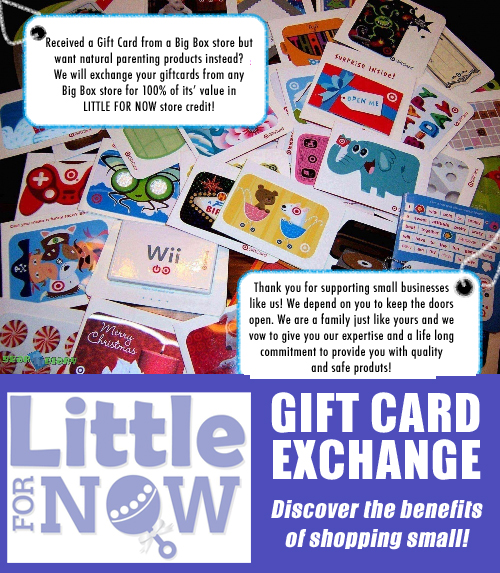 As a small business we depend on every sale from our customers. You keep our doors open. We do understand though, that many of our customers get gift certificates to big box stores for baby showers and other events.

This takes business away from small businesses that depend on you to stay open in your community and just as important they leave you without any type of product support and guidance. By exchanging your gift cards with us you will receive 100% of their value in Little For Now store credit. In addition, by shopping with us you benefit from our expertise in helping guide you in purchasing the right products for your family, as well as on going support for the products you purchase from us.

Gift Cards Accepted Include:
Walmart
Target
K'mart
Costco
Bed, Bath & Beyond
Amazon
iTunes
And many other national chain stores and restaurants.

How to Redeem
By mail for online use:
Please fill out THIS form before mailing the cards. We will contact you to confirm the cards can be accepted.
*Note: We are not responsible for ensuring cards arrive safely.
In person:
Please email to schedule a time to drop off the card.
Please email lisa@littlefornow.com if you have any questions!
You will receive Little For Now store credit.

Additional Details.
Gift Cards only - NO paper gift certificate.
Cards must be issued in the US.
Balance on card MUST be verified prior to receiving store credit.
Card must be in the possession of Little For Now, prior to receiving credit.
You must surrender the physical card. No digital cards will be accepted.