Please sign in so that we can notify you about a reply
O.N.E. Cloth Diaper
The O.N.E diaper is a true all-in-one diaper (fits 10-35+ pounds) that comes with everything you'll ever need to cloth diaper a baby: enough absorbency to forget boosters and doublers (even overnight), two built-in closure options, and a heavy-duty construction that is built to last.
The ONE features a unique Outlast closure system that gives the user the ability to choose between Hook & Loop and Snap closures, and the ability to buy a replacement kit when your Hook & Loop wears out. O.N.E.'s absorbency comes from a hidden body layer PLUS our one-of-a-kind cotton, channeled soaker design that is trim yet absorbent. All with the same amazing quality you've come to know and love in GroVia products.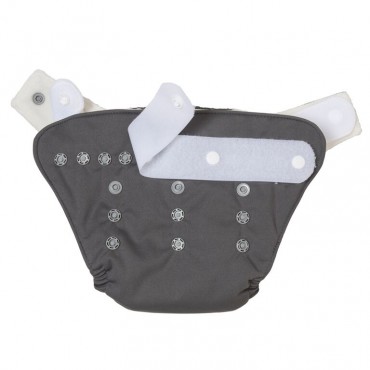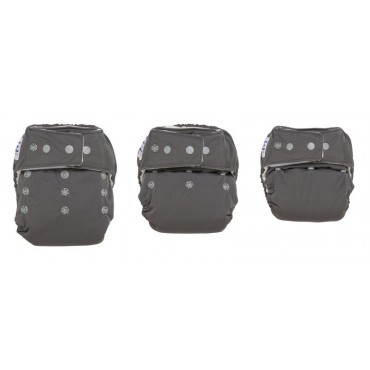 No need to choose between Hook & Loop or Snap closures
With the O.N.E., you can have both! The removable Hook & Loop closure is perfect for those who love a "no-hassle" fit but want to transition to a snap closure later on.
Built-in extra absorbency means the perfect nighttime solution
Lasts from birth to potty learning (fits 10 - 35 lbs).
No prepping - can start using right away
Modular Snap In Soaker System allows for customization
Easy closure replacement
Fairly and conscientiously made in China
O - Outlast Closure
N - No Prep
E - Easy To Use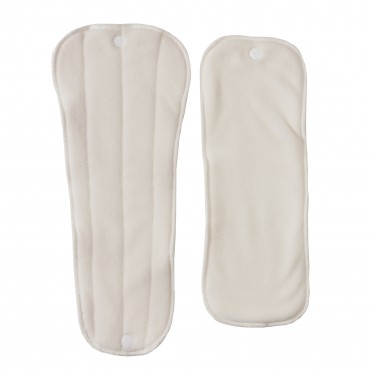 Materials:
Hidden Inner Layer: 100% Polyester Microfiber
Outer: 100% Water Resistant Polyester TPU
Soaker: 100% Cotton topped with 100% Polyester Microfleece
Body Lining: 100% Polyester Microfleece
Outer: 100% Water Resistant Polyester TPU (Exclusive of Trim)
Washing Instructions
This is an All In One diaper, you must wash the entire diaper when soiled.
Before First Use
Remove Hook and Loop strips*
Wash once with detergent
Tumble dry
Regular Wash
Remove Hook and Loop strips*
Place soiled diaper into pail
Wash soiled diaper every two days
Wash on hot or warm with full amount of a good cleaning detergent
Add an extra rinse if needed
Tumble dry
Do not use fabric softeners
Do not dry clean or iron
*For maximum longevity of your hook and loop, we recommend removing prior to washing and drying.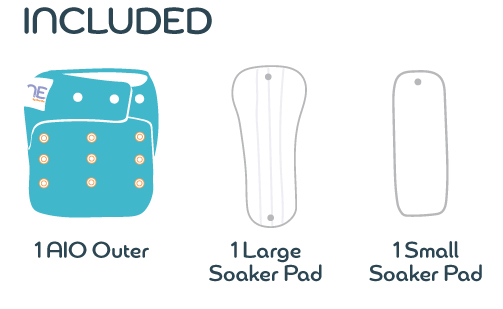 Currently available in: Adventure, Astro, Ballot, Calico, Chiffon, Citrus, Cloud, Funfair, Haze, Holland, Lotus, Onyx Stripe, Ophelia, Tex, Topaz, Vanilla, Woodland Remix, Heartspring. This list is subject to change based on current inventory.
Our layaway offers you the opportunity to get the products you need on a payment plan. Using cloth diapers saves money, but we understand that getting your initial cloth diaper stash can be hard when you are short on cash. Our cloth diaper layaway plan allows you to spread the cost out over 3 months.
Select the items you need, then use the voucher code "LAYAWAY" when you checkout. You'll only be charged 25% of the cost of your order. I will set your items aside until they are paid for.
You will then be responsible for paying 25% each month for the next 3 months. If more than 90 days are needed please contact us at lisa@littlefornow.com to make arrangements.
You can make payments on your layaway items with PayPal by putting "Layaway" and your name in the subject of the payment. Payments can be made using Paypal. The email address for Paypal is sales@ecofamilyinc.com. You can also pay with check or credit card. Please call us at 1-877-536-0850 for more information.
If you need to cancel your layaway order there will be a re-stocking fee equal to 25% of the total cost of the order. Any additional money paid over the 25% will be refunded. The re-stocking fee is to cover the time we held the items for you and they were not available to be sold to someone else, credit card/PayPal fees and staff time to enter and process the order and cancellation.
Certain items are drop shipped (cosleeper, etc.) from the manufacturer. These items are not actually ordered until the payment is made in full. In rare cases a manufacturer may change or discontinue a product during the payment period. If this happens and the product or a reasonable substitute (such as a different color) is not available then a refund will be issued.