Please sign in so that we can notify you about a reply
How does The Best Bottom System Work:
Simplify, simplify, simplify! Many may start researching cloth diapers, get overwhelmed and quit. Best Bottoms are YOUR solution! So easy to use yet comes with lots of options so you can get a customized system for your baby.
1. Adjust front snaps to achieve the size needed.
2. Snap insert into diaper.
3. Put diaper on baby and go!
4. When baby needs a diaper change snap out soiled insert and snap clean one in.
5. Put diaper on baby and go AGAIN. The Best Bottom shell is wipe-able and can be used multiple times before washing but you may want to air dry between uses but it is not necessary.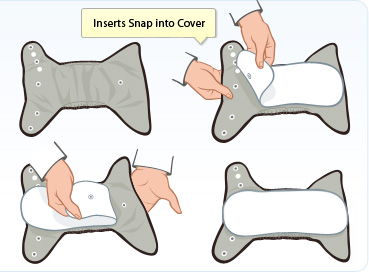 We recommend getting as many shells as your baby poos in a 2-3 day time period (for newborns count how many explosions they have!!). We have found that poo does stay on the insert most of the time but in some cases it may not (but it will stay in the diaper cover avoiding an embarassing mess!) Three different size inserts in several different materials available. We don't believe in a one size insert. Newborns and toddlers are not the same size so in order for a one size insert to absorb enough for a toddler it will be HUGE on a newborn. You may not need all three sizes of inserts and can skip the middle size - it is all up to you! We recommend approximately 24 inserts per size.
So to make it SIMPLE you will need approx 8-10 shells and 18-24 inserts per size. How easy is that?!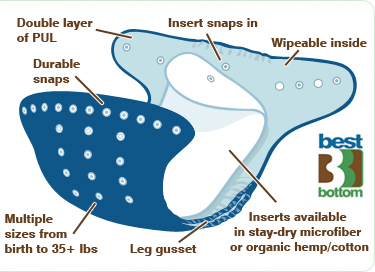 Fit:
Fits from birth to 35+ lbs. We added special leg gussets to help keep everything in, adjustable rise with four settings, and overlapping closure in both snap and hook & loop. This is a very trim fitting diaper so please be extra careful that none of the insert is sticking out of the shell. Also, after the diaper is on, pull the leg gussets out around baby's legs. This will guard against leaks and help avoid any red marks.
Options:
We wanted to keep it simple but know that our customers want choices! We have created two different types of Regular inserts to snap into the shell for everyday use. You can mix and match meeting all preferences and needs. Both insert types are super trim making the Best Bottom one size diapering system one of the trimmest cloth diapers around. We offer each of our Stay Dry and Hemp/Organic Cotton inserts in three different sizes. Sizing is approximate and will depend on size and shape of baby as well as how heavy of a wetter.
Small: birth-14lbs, Medium: 11-22lbs, Large: 16-35lbs.
1. Our Stay Dry Insert consists of 4 layers of super thirsty microfiber topped with a super soft no-pill fleece pulling wetness away from baby's bottom keeping them feeling dry.
2. Our Hemp/Organic Cotton Insert consists of 5 layers of hemp/Certified Organic cotton topped with a soft layer of hemp/Certified Organic cotton fleece. This insert is so trim you will be able to have your baby wear jeans again!
Washing Instructions:
Oh so easy!!
1. Remove solids
2. Either reuse the shell until soiled or wash day. Separate shell from insert before washing. Fasten laundry tabs (if applicable).
3. Rinse cold, wash warm with 1/4-1/2 additive-free detergent, rinse (warm or cold).
4. Tumble dry or line dry. No fabric softeners or rash creams (if you need to use rash creams put a barrier between baby and diaper for example a flushable liner or reusable wipe work great).
We recommend washing every 2-3 days. We have found that the Best Bottom system washes beautifully as it takes up less space in your washing machine allowing more room for agitation getting your diapers super clean.
Our layaway offers you the opportunity to get the products you need on a payment plan. Using cloth diapers saves money, but we understand that getting your initial cloth diaper stash can be hard when you are short on cash. Our cloth diaper layaway plan allows you to spread the cost out over 3 months.
Select the items you need, then use the voucher code "LAYAWAY" when you checkout. You'll only be charged 25% of the cost of your order. I will set your items aside until they are paid for.
You will then be responsible for paying 25% each month for the next 3 months. If more than 90 days are needed please contact us at lisa@littlefornow.com to make arrangements.
You can make payments on your layaway items with PayPal by putting "Layaway" and your name in the subject of the payment. Payments can be made using Paypal. The email address for Paypal is sales@ecofamilyinc.com. You can also pay with check or credit card. Please call us at 1-877-536-0850 for more information.
If you need to cancel your layaway order there will be a re-stocking fee equal to 25% of the total cost of the order. Any additional money paid over the 25% will be refunded. The re-stocking fee is to cover the time we held the items for you and they were not available to be sold to someone else, credit card/PayPal fees and staff time to enter and process the order and cancellation.
Certain items are drop shipped (cosleeper, etc.) from the manufacturer. These items are not actually ordered until the payment is made in full. In rare cases a manufacturer may change or discontinue a product during the payment period. If this happens and the product or a reasonable substitute (such as a different color) is not available then a refund will be issued.