Please sign in so that we can notify you about a reply
The new Thirsties Duo hemp prefolds are soft and absorbent. They come in two sizes to match the Duo Wraps. Size 1 fits about 7-18 pounds. Size two fits about 18-40 pounds.
Patent-pending design is easy to clean, quick to dry, and grows with your baby

Made from buttery soft custom hemp jersey knitted in the USA

25% more absorbent and much more durable than pure cotton

Maintains a trim and comfortable fit

Naturally antimicrobial

Pair with Thirsties Duo Wrap and save $2000 over disposables!
Details:
Thirsties is revolutionizing the most widely used cloth diaper in the world. Prefold cloth diapers are popular for their affordability and are the most common diaper supplied by cloth diaper services. Though they don't share all the bells and whistles as other more modern cloth diapers, they have their definite and permanent place in the industry and they have been proven dependable and economical.
However, Thirsties Duo Hemp Prefolds are no ordinary prefold! We've solved many of the cons of prefold diapers in our patent-pending design. Ordinary prefolds are bulky and take a long time to dry. When hung to dry, they can become stiff and crunchy. In addition, most prefolds are 8 layers thick in the middle, which makes it difficult to clean all layers of the diaper thoroughly.
Thirsties Duo Hemp Prefolds are designed for the freer flow of air and washing water-each panel is only 2 layers thick, permitting thorough cleansing with little effort and quick drying times. Our custom hemp jersey is as soft as your favorite t-shirt and it's knitted with love right here in the USA. Hemp is an ideal diaper fabric as it displays antimicrobial properties, is many times more durable, and is more absorbent than cotton. In fact, our hemp jersey is 25% more absorbent than a prefold of the same weight made from cotton alone! This translates into a very trim and effective cloth diaper with a hefty amount of absorbing power.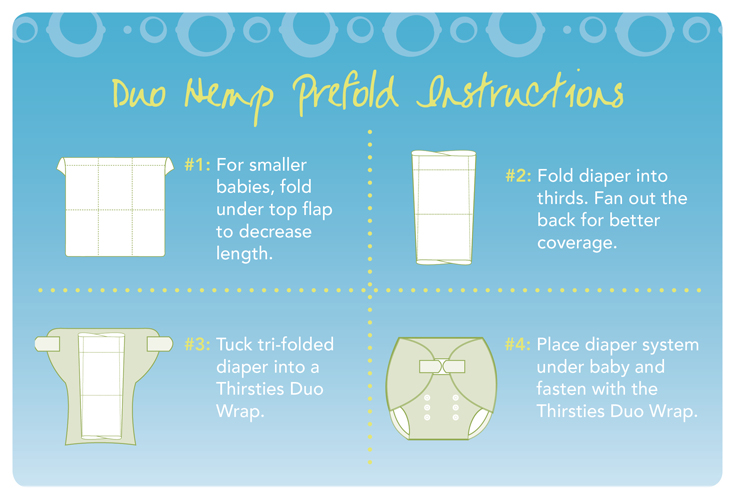 Our layaway offers you the opportunity to get the products you need on a payment plan. Using cloth diapers saves money, but we understand that getting your initial cloth diaper stash can be hard when you are short on cash. Our cloth diaper layaway plan allows you to spread the cost out over 3 months.
Select the items you need, then use the voucher code "LAYAWAY" when you checkout. You'll only be charged 25% of the cost of your order. I will set your items aside until they are paid for.
You will then be responsible for paying 25% each month for the next 3 months. If more than 90 days are needed please contact us at lisa@littlefornow.com to make arrangements.
You can make payments on your layaway items with PayPal by putting "Layaway" and your name in the subject of the payment. Payments can be made using Paypal. The email address for Paypal is sales@ecofamilyinc.com. You can also pay with check or credit card. Please call us at 1-877-536-0850 for more information.
If you need to cancel your layaway order there will be a re-stocking fee equal to 25% of the total cost of the order. Any additional money paid over the 25% will be refunded. The re-stocking fee is to cover the time we held the items for you and they were not available to be sold to someone else, credit card/PayPal fees and staff time to enter and process the order and cancellation.
Certain items are drop shipped (cosleeper, etc.) from the manufacturer. These items are not actually ordered until the payment is made in full. In rare cases a manufacturer may change or discontinue a product during the payment period. If this happens and the product or a reasonable substitute (such as a different color) is not available then a refund will be issued.