Please sign in so that we can notify you about a reply
This listing is for SNAP shells. If you are looking for Hook & Loop closure you can find those here!
The GroVia® Hybrid system is a revolution in cloth diapering. The innovative cloth diaper Shell is designed to allow for multiple wears between washes and uses the industry's best materials. For use with our Soaker Pads, BioSoakers, and other absorbent diapers.
Choose between Hook & Loop closure or Snap closure!

What is the GroVia® Diapering System?
GroVia® is a modern, one-size diapering system. Its unique, waterproof shell and organic cotton soaker pad minimizes waste and cost. When the soaker pad is wet, simply replace with a fresh, dry one!
You can also choose from the new stay dry soaker pad when you want to keep baby's skin dry.

How does GroVia® work?
GroVia® is designed so that the outer shells may be used for multiple diaper changes. If the soaker pad is wet, simply snap in a fresh one and you are ready to go. If the shell is wet, allow it to air dry and use for the next diaper change. When your GroVia® Shell is soiled or very saturated, start fresh with a new GroVia® Shell.

Most GroVia® System users will find that using 2-4 GroVia® Shells are enough per day, although newborn babies may need more.

How does the one-size feature on my GroVia® work?
GroVia® will fit MOST babies from 8-35 lbs. The GroVia® Shell features three sets of rise snaps that adjust to fit your baby. Our unique one-size Organic Soaker Pad fits from 8-35 lbs as well.
Newborn/Small Infant Setting: Snap your GroVia® Shell rise snaps on the lowest setting. Snap your soaker pad into the shell and simply flip the front of the soaker pad in towards baby. Fastened diaper on baby.
Infant Setting: Snap your GroVia® Shell rise snaps on the middle setting. Snap your soaker pad into the shell. Tuck the front of your soaker pad down, while pulling the front panel up and fasten on baby.
Toddler Setting: Leave your GroVia® Shell rise snaps unsnapped. Snap your soaker pad into the shell and fasten on baby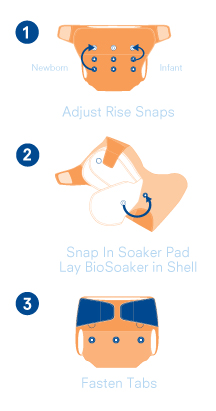 How to care for your GroVia® Diapering System?

First and foremost it is important to wash and dry your Organic Cotton Soaker Pads at least 3-5 times prior to use. They will not be fully absorbent for up to 10 washes.

Laundry Day:
You will find that your laundry loads will be a third of the size of your regular laundry loads!
Your GroVia® Shell and Soaker Pads can be washed together on warm with ½ the recommend amount of detergent
A second rinse will leave your diaper squeaky clean
While your GroVia® Shells can be tumbled dry, we HIGHLY recommend line drying your shells. They will dry in less than two hours and will stay nice longer
GroVia® Organic Soaker Pads can be tumbled dried
This may seem obvious but, whiteners, bleach, vinegar, enzyme cleaners and fabric softeners are not your diaper's friends and will void all warranties.
How to avoid leaks with your GroVia® System?
First and foremost your GroVia® Soaker Pads must be washed and dried on hot 3-5 times prior to use. Keep in mind that they will NOT reach their maximum absorbency for up to 10 washes.
GroVia's®Organic Cotton Soaker Pads while very absorbent do not contain the SAP (super absorbent polymer) gels that make disposable diapers hold ridiculous amounts of liquid. This means you should plan on changing baby every two hours.
For naps, nights, car trips and older babies we highly recommend adding a

GroVia Booster

to increase absorbency without adding much bulk.
Refrain from using petroleum based diaper balms as this coat your Organic Cotton Soaker Pads affecting their ability to absorb liquid. A good alternative is

Magic Stick

.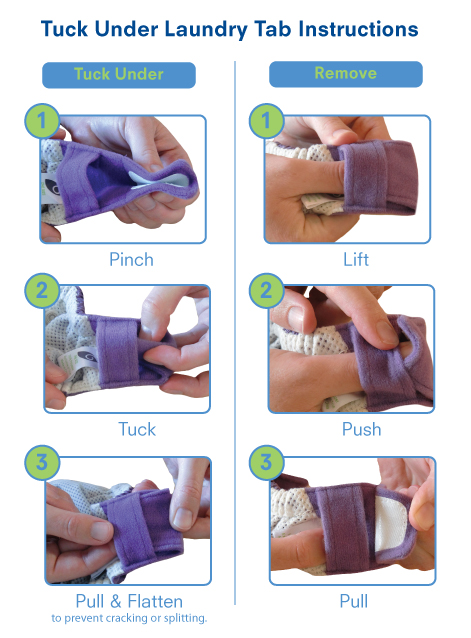 Our layaway offers you the opportunity to get the products you need on a payment plan. Using cloth diapers saves money, but we understand that getting your initial cloth diaper stash can be hard when you are short on cash. Our cloth diaper layaway plan allows you to spread the cost out over 3 months.
Select the items you need, then use the voucher code "LAYAWAY" when you checkout. You'll only be charged 25% of the cost of your order. I will set your items aside until they are paid for.
You will then be responsible for paying 25% each month for the next 3 months. If more than 90 days are needed please contact us at lisa@littlefornow.com to make arrangements.
You can make payments on your layaway items with PayPal by putting "Layaway" and your name in the subject of the payment. Payments can be made using Paypal. The email address for Paypal is sales@ecofamilyinc.com. You can also pay with check or credit card. Please call us at 1-877-536-0850 for more information.
If you need to cancel your layaway order there will be a re-stocking fee equal to 25% of the total cost of the order. Any additional money paid over the 25% will be refunded. The re-stocking fee is to cover the time we held the items for you and they were not available to be sold to someone else, credit card/PayPal fees and staff time to enter and process the order and cancellation.
Certain items are drop shipped (cosleeper, etc.) from the manufacturer. These items are not actually ordered until the payment is made in full. In rare cases a manufacturer may change or discontinue a product during the payment period. If this happens and the product or a reasonable substitute (such as a different color) is not available then a refund will be issued.