CODE
Color
Availability
Price

$

26.99

$

26.99

$

26.99

$

26.99

$

26.99

$

26.99

$

26.99

$

26.99

$

26.99

$

26.99

$

26.99

$

26.99

$

26.99

$

26.99

$

26.99

$

26.99

$

26.99

$

26.99

$

26.99

$

26.99

$

26.99

$

26.99

$

26.99

$

26.99

$

26.99

$

26.99
Please sign in so that we can notify you about a reply
TotsBots award winning Easyfit reusable cloth diaper is easy to use and will help you reduce waste while saving a little money along the way.
Fits from 8-35lbs. For most babies, this will be from birth to until they are ready for potty training.
Our waterproof outer material is made from recycled plastic waste making us the first reusable nappy company in the world to make 100% of their waterproof fabric out of recycled polyester yarn. So, you're not just reducing your waste by choosing TotsBots, you're recycling too! There will be on average 2 bottles diverted from landfill with every TotsBots EasyFit cloth diaper!
The Award Winning EasyFit STAR is the ultimate one piece reusable nappy for absorbency, fit & comfort with an out of this world performance.
Super absorbent bamboo core which is soft and gentle next to baby's bum
Stay dry buffer zones to keep liquid locked into core
Clever stitch free seams - no leaks!
Waterproof tummy area
Oekotex certified - no harmful chemicals next to your babies skin
Easy hook and loop fastening
One size fits most from birth to potty training - 8 to 35lbs
Made with love in Scotland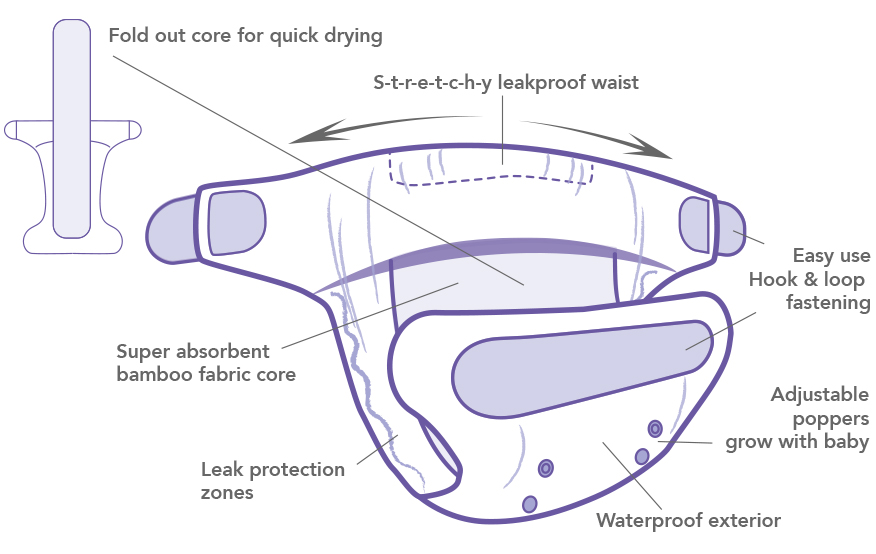 Our layaway offers you the opportunity to get the products you need on a payment plan. Using cloth diapers saves money, but we understand that getting your initial cloth diaper stash can be hard when you are short on cash. Our cloth diaper layaway plan allows you to spread the cost out over 3 months.
Select the items you need, then use the voucher code "LAYAWAY" when you checkout. You'll only be charged 25% of the cost of your order. I will set your items aside until they are paid for.
You will then be responsible for paying 25% each month for the next 3 months. If more than 90 days are needed please contact us at lisa@littlefornow.com to make arrangements.
You can make payments on your layaway items with PayPal by putting "Layaway" and your name in the subject of the payment. Payments can be made using Paypal. The email address for Paypal is sales@ecofamilyinc.com. You can also pay with check or credit card. Please call us at 1-877-536-0850 for more information.
If you need to cancel your layaway order there will be a re-stocking fee equal to 25% of the total cost of the order. Any additional money paid over the 25% will be refunded. The re-stocking fee is to cover the time we held the items for you and they were not available to be sold to someone else, credit card/PayPal fees and staff time to enter and process the order and cancellation.
Certain items are drop shipped (cosleeper, etc.) from the manufacturer. These items are not actually ordered until the payment is made in full. In rare cases a manufacturer may change or discontinue a product during the payment period. If this happens and the product or a reasonable substitute (such as a different color) is not available then a refund will be issued.