Please sign in so that we can notify you about a reply
***Elastic waistband - Trucks and Moo come with an elastic waistband instead of fleece.***
Finally a Nighttime Bedwetting Solution!
These Bedwetting Pants are real waterproof nighttime underwear that are designed to help your child wake up with dry sheets. They come with 4 layers of 100% cotton terry absorbency built in, and fleece covered elastic legs and waist for a comfortable, and more leak resistant fit. Excellent for potty training transitional nights, or even for minor child enuresis. For heavy nighttime bedwetting, please add a step-up insert to them.

These Bedwetting Pants (nighttime underwear) can usually handle most levels of wetters, although they may require additional absorbency, or to be changed once through the night. You can use one of our Step-up inserts, a diaper insert that you may already have, a wash rag folded in half or thirds, whatever it takes to add more absorbency in there. Some children can pee 16 oz at a time! Fill up a glass and take a look, that's a lot!

Will these nighttime underwear really work for me?

Most likely, and here's why...

Your Super Undies will last!
We are committed to making a product that will stand the test of time. Our standard warranty covers all parts of the garment for 60 days, but beyond that Super Undies services their products. Pertinent pieces of the Super Undies pants can be repaired free of charge for the life of the product. This includes snaps and seams that may come undone.

These bedwetting pants are going to absorb what you need them to!
The Bedwetting Pants are constructed with two separate soaker pads of microfiber inside them, which is enough to hold up to 450 mL of fluid, but beyond that the undies have an internal system to receive even more absorption, so as much as you need is exactly what you can have!

Bedwetting Pants are really waterproof nighttime underwear that are built to withstand leaks
I know it may seem like a funny idea to have fleece edges at the legs and waist, but this is actually part of our secret weapon. The soft anti-pill fleece we use is water repellent - meaning that water not only does not go through it, but is actually blocked. This gives you an additional insurance policy against a leak that might be thinking about happening.

Super Undies offers support in your struggle to get through this bed wetting stuff.
Maybe your child stopped peeing at night, but then started again weeks later when you thought you were done. Or maybe your Super Undies worked very well at first, but eventually started to leak. Or maybe they build up an odor. These problems are possible with any cloth absorbency system, whether it be a diaper, training pant or bed wetter pant. Well, Super Undies knows why, and there are a lot of factors to consider. We offer complete support in pressing that reset button and getting your used Super Undies back to optimum condition after months of use. Our support center is always available and manned by the owner herself. Why go with anything else when we are committed to helping you solve whatever problem you are having?

Super Undies are a cost effective tool to help manage the time you will be dealing with bed wetting.
No one knows how long it will last, and even if your second or third child will go through the same thing. Check out how cheap it is to use these Bedwetting Pants, even though $29.95 can seem like a bit of a sticker shock! Two packs of disposable undies a month can cost the $30.00 you'll spend on one of these, but that one pair can be washed with regular loads and be ready every night to use again! You'll get WAY more than a month of use out of these Bedwetting Pants!!

Super Undies will make your child more economically and environmentally responsible. Since Super Undies are made in America, your child will be instantly, and fashionably, more patriotic (if you live in America too.) If you don't live in America, than you will still be happy to know that since your Super Undies are made in America, you are certainly not supporting any third world sweat shops or unethical labor practices, and that the garment you are receiving has not come into contact with any harmful substances or dioxins that could cause their workers a wide range of illnesses including infertility and various cancers. It might also ease your minds to know that our materials are sourced and made in America as well!

Size 3 and 4 may take up to a week to ship.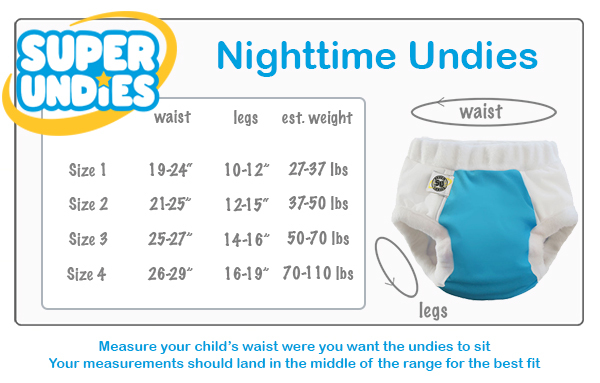 Care and Materials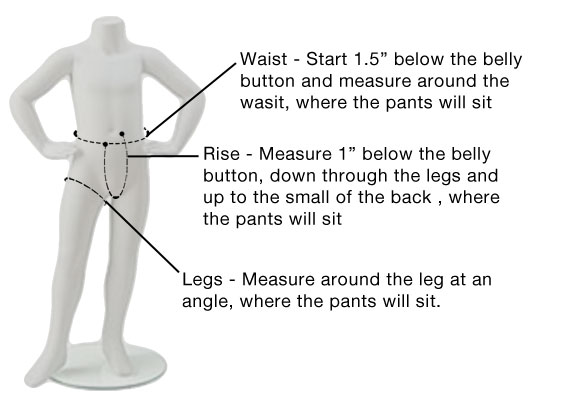 | | |
| --- | --- |
| Inner fabric - Touching skin: | A smooth poly-Lycra blend |
| Absorbency inner: | Microfiber Terry Cloth |
| Colored outer fabric: | Waterproof PUL |
| Tabs: | PUL and a soft microfiber fleece |
| Leg Binding: | Water-resistant anti-pill fleece |
Our layaway offers you the opportunity to get the products you need on a payment plan. Using cloth diapers saves money, but we understand that getting your initial cloth diaper stash can be hard when you are short on cash. Our cloth diaper layaway plan allows you to spread the cost out over 3 months.
Select the items you need, then use the voucher code "LAYAWAY" when you checkout. You'll only be charged 25% of the cost of your order. I will set your items aside until they are paid for.
You will then be responsible for paying 25% each month for the next 3 months. If more than 90 days are needed please contact us at lisa@littlefornow.com to make arrangements.
You can make payments on your layaway items with PayPal by putting "Layaway" and your name in the subject of the payment. Payments can be made using Paypal. The email address for Paypal is sales@ecofamilyinc.com. You can also pay with check or credit card. Please call us at 1-877-536-0850 for more information.
If you need to cancel your layaway order there will be a re-stocking fee equal to 25% of the total cost of the order. Any additional money paid over the 25% will be refunded. The re-stocking fee is to cover the time we held the items for you and they were not available to be sold to someone else, credit card/PayPal fees and staff time to enter and process the order and cancellation.
Certain items are drop shipped (cosleeper, etc.) from the manufacturer. These items are not actually ordered until the payment is made in full. In rare cases a manufacturer may change or discontinue a product during the payment period. If this happens and the product or a reasonable substitute (such as a different color) is not available then a refund will be issued.