Please sign in so that we can notify you about a reply
Planet Wise Wet/Dry Bag
This Wet/Dry Bag is another great addition to the growing Planet Wise product line! This is a truly innovative bag that allows you to carry your wet and dry items in the same bag. Each Planet Wise Wet/Dry Bag contains a "wet" section that is sewn and sealed for no wicking or leaking AND a zippered dry section for clean or dry items. Each Wet/Dry Bag also comes with a clever snap handle for easy carrying or hanging.
Carry all your items in the Planet Wise Wet/Dry Bag while keeping your dry items dry and your wet or soiled items separate, sealing in moisture and odors. Planet Wise Wet/Dry Bags are made with a high-quality polyurethane laminate (PUL) inner that is anti-microbial and inhibits the growth of bacteria and fungi - perfect for holding approximately 8-9 dirty cloth diapers. The outer portion is 100% cotton.
Wet Bags in the Performance line are made with a canvas-like material which is coated with a non-toxic water repellent, making them water resistant. The water repellent does not wash out onto other items in the laundry and retains 95% effectiveness even after 100 washes!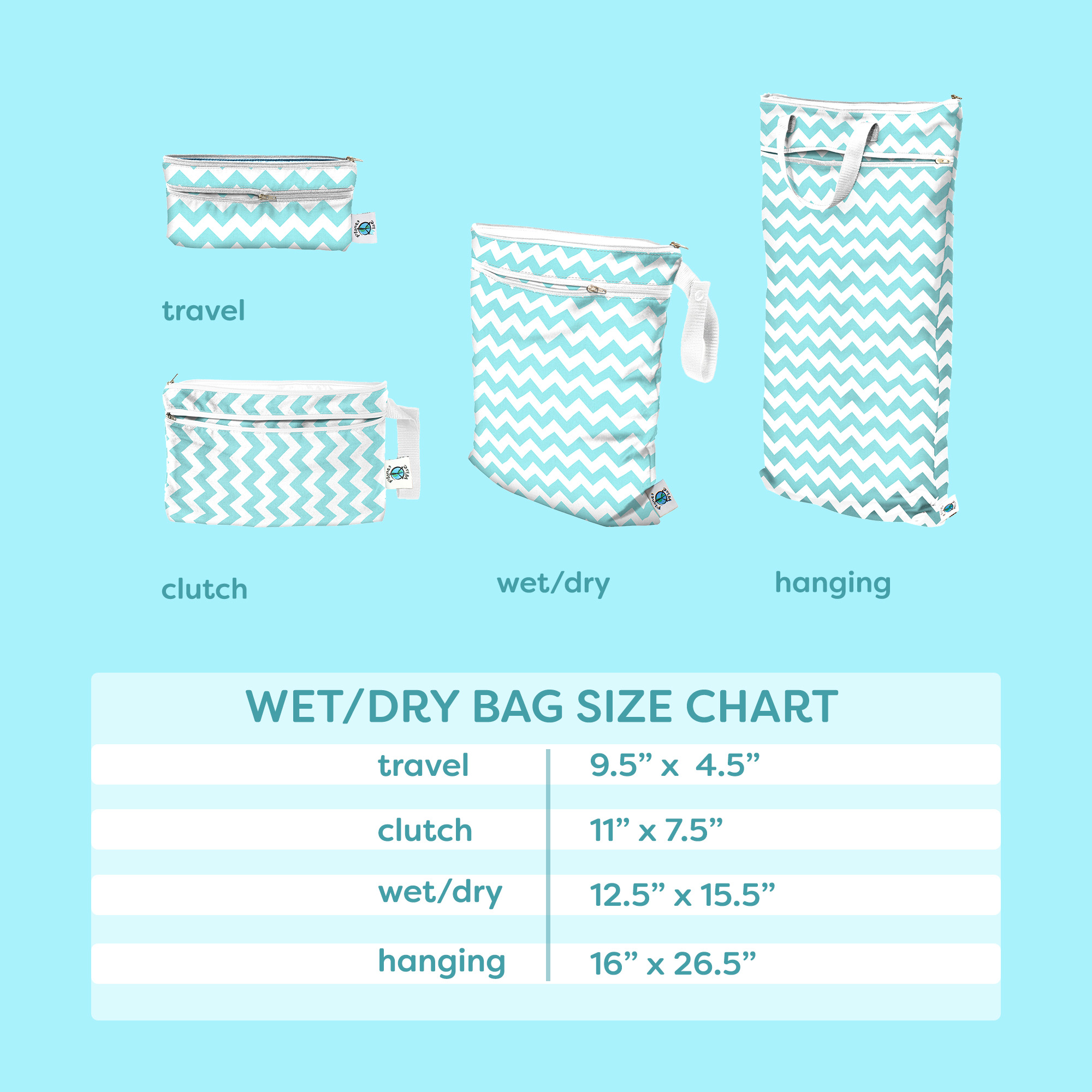 Features
PVC free and lead free zippers.
Reusable to avoid using plastic bags, helping to protect our planet.
Many great uses including wet/dirty items, swimwear, diapers, shoes, cosmetics, gym bag, and the list goes on and on.
Made with high-quality designer fabrics with coordinating inner waterproof material and water resistant, locking zipper.
Each bag is innovatively sewn with hidden seams and sealed for no wicking or leaking - FIRST in the industry.
Resists most odors and stains keeping smells in.
Machine Wash and Dry with Clothes or Cloth Diapers - No Bleach.
Made in the USA.
Innovative Seam Sealing
Most waterproof material, when sewn, leaves tiny holes in the fabric allowing liquid to seep out over time. After a lot of research Planet Wise Inc has discovered an innovative way to seal the seam so NO liquid can escape, even if you put water into the bag and squeeze!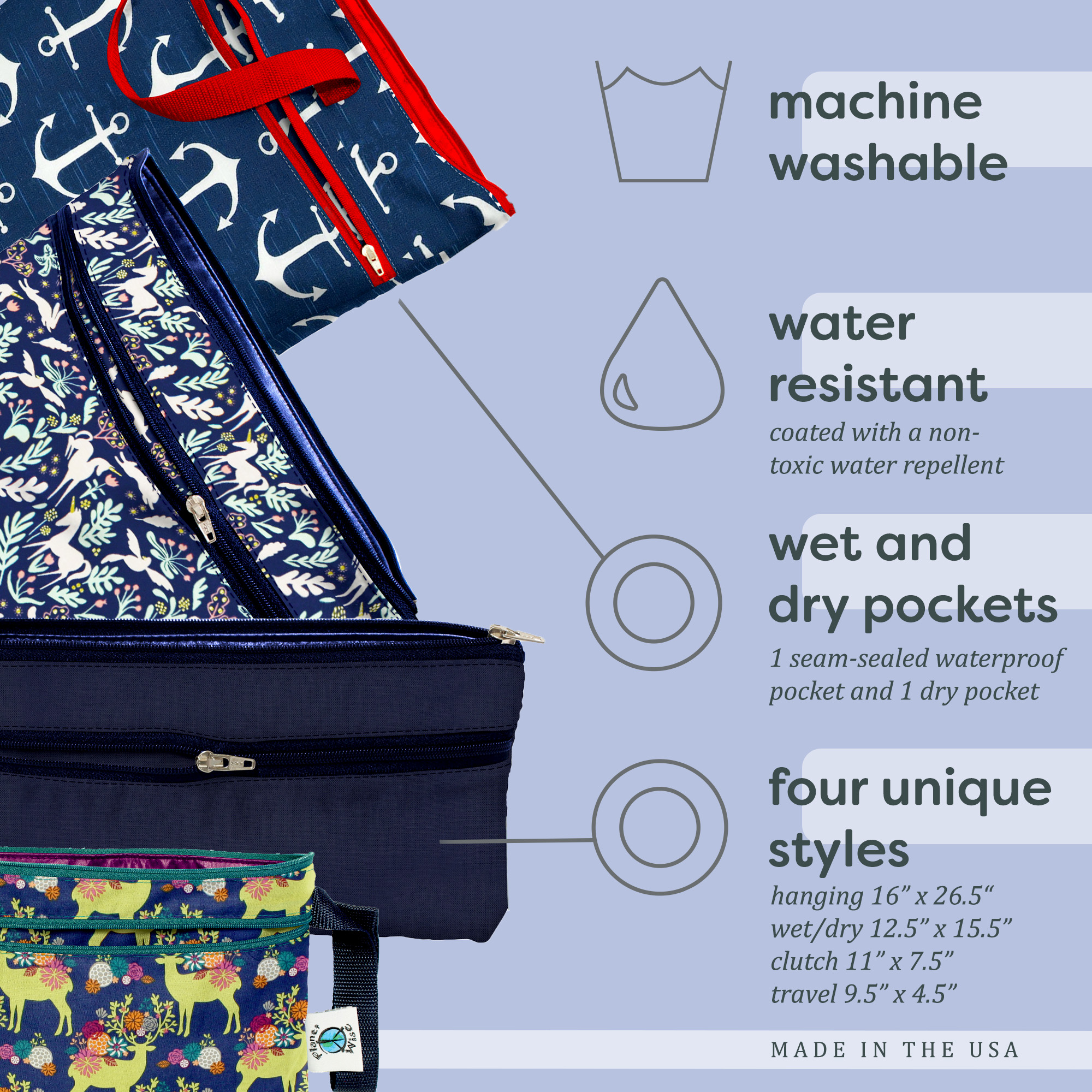 Our layaway offers you the opportunity to get the products you need on a payment plan. Using cloth diapers saves money, but we understand that getting your initial cloth diaper stash can be hard when you are short on cash. Our cloth diaper layaway plan allows you to spread the cost out over 3 months.
Select the items you need, then use the voucher code "LAYAWAY" when you checkout. You'll only be charged 25% of the cost of your order. I will set your items aside until they are paid for.
You will then be responsible for paying 25% each month for the next 3 months. If more than 90 days are needed please contact us at lisa@littlefornow.com to make arrangements.
You can make payments on your layaway items with PayPal by putting "Layaway" and your name in the subject of the payment. Payments can be made using Paypal. The email address for Paypal is sales@ecofamilyinc.com. You can also pay with check or credit card. Please call us at 1-877-536-0850 for more information.
If you need to cancel your layaway order there will be a re-stocking fee equal to 25% of the total cost of the order. Any additional money paid over the 25% will be refunded. The re-stocking fee is to cover the time we held the items for you and they were not available to be sold to someone else, credit card/PayPal fees and staff time to enter and process the order and cancellation.
Certain items are drop shipped (cosleeper, etc.) from the manufacturer. These items are not actually ordered until the payment is made in full. In rare cases a manufacturer may change or discontinue a product during the payment period. If this happens and the product or a reasonable substitute (such as a different color) is not available then a refund will be issued.