Please sign in so that we can notify you about a reply
Have you ever wished for a pail liner to fit a smaller pail? Well, your wish is our command! Introducing Thirsties Mini Pail Liner designed to fit most 4-gallon wastebaskets. The Mini Pail Liner, with its fully-taped, waterproof seams to prevent leaking and wicking, looks and functions exactly like its larger counterpart—it's just mini!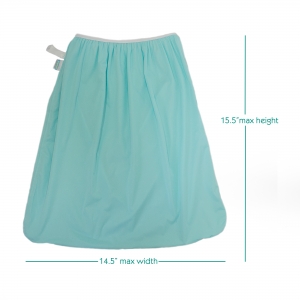 To clean your pail liner, simply toss it in the wash with your soiled diapers. Use the attached closure strap to hold in odors while carrying your liner to the wash. We recommend purchasing at least two liners to keep in rotation.
Proudly manufactured in the USA
Elastic opening provides a snug fit on most diaper pails up to 4 gallons
Waterproof TPU laminate and fully-taped waterproof seams prevent leaking and wicking and keep moisture out of your diaper pail
Sewn-in closure strap keeps odors in when liner is not in a diaper pail
Sizing
15.5"h x 14.5"w
Content
100% polyester with waterproof TPU laminate
At every wash cycle:
-Prewash on warm
-Wash on hot
-Add another rinse on warm.
-Hang to dry or dry in the dryer on low.
Important notes:
Use enough water to soak and cover the diapering items and allow them to agitate.
Please avoid the following:
Laundry boosters/additives
Sanitize or Whites cycles on HE machines
High heat in the dryer
Pure Soap
Bleach
These practices and/or additives can void the warranty on your Thirsties products.
Our layaway offers you the opportunity to get the products you need on a payment plan. Using cloth diapers saves money, but we understand that getting your initial cloth diaper stash can be hard when you are short on cash. Our cloth diaper layaway plan allows you to spread the cost out over 3 months.
Select the items you need, then use the voucher code "LAYAWAY" when you checkout. You'll only be charged 25% of the cost of your order. I will set your items aside until they are paid for.
You will then be responsible for paying 25% each month for the next 3 months. If more than 90 days are needed please contact us at lisa@littlefornow.com to make arrangements.
You can make payments on your layaway items with PayPal by putting "Layaway" and your name in the subject of the payment. Payments can be made using Paypal. The email address for Paypal is sales@ecofamilyinc.com. You can also pay with check or credit card. Please call us at 1-877-536-0850 for more information.
If you need to cancel your layaway order there will be a re-stocking fee equal to 25% of the total cost of the order. Any additional money paid over the 25% will be refunded. The re-stocking fee is to cover the time we held the items for you and they were not available to be sold to someone else, credit card/PayPal fees and staff time to enter and process the order and cancellation.
Certain items are drop shipped (cosleeper, etc.) from the manufacturer. These items are not actually ordered until the payment is made in full. In rare cases a manufacturer may change or discontinue a product during the payment period. If this happens and the product or a reasonable substitute (such as a different color) is not available then a refund will be issued.