Pink Daisy Mama Pads
Stay Dry
A stay-dry pad that does just that--keeps you feeling dry. Power-dry lined pads keeps you feeling dry. Hidden inner microfiber terry layers provides maximum absorbency. Breathable laminated polyester backing prevents leakage.
Powerdry fabric is certified by Oeko-Tex Standard 100, which is a European ecological certification process that tests fabrics for over 100 harmful substances.


DIRECTIONS FOR USE
Wash your Pink Daisy pads prior to first use. Snap pads around your underwear so the tag side faces down.

Change pad every 2-6 hours or as needed. When you are away from home, place the used pads in a Mini Bag until you return home. Then wash per care instructions. Avoid washing the pads in public facilities. Pink Daisy pads are meant for personal use only, and should not be shared with others.

HOW MANY DO YOU NEED?
For one cycle, we recommend between 6-12 small/medium pads and 1-3 large pads, depending on how heavy your flow is and how long your periods normally last.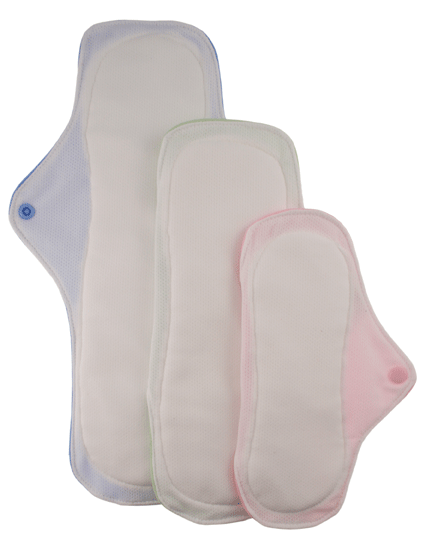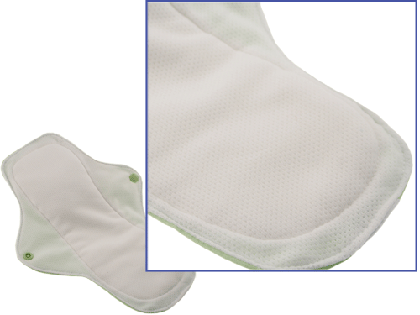 Sizing
Small pads for light days measure 8" long x 3" wide.
Medium pads for regular/heavy days measure 10.5" long x 3.5" wide.
Large pads for overnight and heavy flow measure 13" long x 3.5" wide.
Features
Fabric Content:
Waterproof layer: 100% polyester laminate
Hidden layer: 100% polyester
Stay-dry top layer: 100% polyester

Made in the USA
Wash & Care
Wash your Pink Daisy pads prior to first use.

General wash & care: Rinse or soak in cold water. Hand or machine wash cold or warm cycle. Line dry or tumble dry.

Do not use fabric softener. It will coat the pads and make them water repellent and reduce their absorbency. Be aware that if you use dryer sheets in your dryer for other laundry this can coat your dryer and transfer to your pads.

Do not use bleach. This will cause the fabric's fibers to break down. It will also cause the waterproof layer of the pad to de-laminate.

Stains. Should staining occur, try laying your pads out in the sun, or use an oxygen-based bleach.
Our layaway offers you the opportunity to get the products you need on a payment plan. Using cloth diapers saves money, but we understand that getting your initial cloth diaper stash can be hard when you are short on cash. Our cloth diaper layaway plan allows you to spread the cost out over 3 months.
Select the items you need, then use the voucher code "LAYAWAY" when you checkout. You'll only be charged 25% of the cost of your order. I will set your items aside until they are paid for.
You will then be responsible for paying 25% each month for the next 3 months. If you do not finish paying for your order within 90 days you can apply any amount you have paid as store credit or you will receive a refund of current paid amount less a 25% restocking fee.
You can make payments on your layaway items with PayPal by putting "Layaway" and your name in the subject of the payment. The email address for Paypal is lisa@littlefornow.com. You can also pay with check or credit card. Please call us at 1-877-536-0850 for more information.
Certain items are dropshipped (cosleeper, etc.) from the manufacturer. These items are not actually ordered until the payment is made in full. In rare cases a manufacturer may change or discontinue a product during the payment period. If this happens and the product or a reasonable substitute (such as a different color) is not available then a refund will be issued.