Moby Wrap UV colors are perfect for summer. The non-toxic Rayosan process makes the fabric bounce the UV rays away from your baby. This is especially important for those first few months when doctors recommend that you avoid using sunscreen.
We used our Moby Wrap for the first time when Eva was 2 weeks old and we took her hiking with us around a beautiful little lake. We still use it regularly for short and long trips around town. She loves being able to see everything we see. I love knowing she is safe and secure with us at all times. In fact, at almost 6 months old she has never used a stroller at all and we don't use an infant car seat to carry her! We just use a baby carrier when we take her out with us. (Obviously we use a properly installed car seat in the car, we just opted for a convertible car seat from the beginning and saved the expense buying a second car seat.)
Moby Wrap UV baby carriers are a perfect shower gift or an affordable anytime gift for parents. The Moby Wrap baby carrier is one of the most versatile baby carriers on the market. Moby Wraps are perfect for traveling with children because they fold up very small to fit in your diaper bag or day pack. When you are not wearing your Moby Wrap you can use it as a pillow, an extra blanket or as a sun shade.
Moby Wrap baby carriers are easy to use and the included full-color instructional booklet will show you how to tie your Moby Wrap on correctly for a safe, snug and secure fit every time.The Moby Wrap baby carrier is one size fits all so both parents can share the same carrier. Better yet, the Moby Wrap is very affordable, so you can afford to keep an extra in the car or at Grandma's house.
Use the same carrier for infant cradle hold, kangaroo hold (front facing), back pack carry (hiker hold), hip hold and even for carrying infant twins. This soft carrier wraps around you to keep your baby close and secure so you can have both hands free for work, helping with older kids, or just eating a real meal.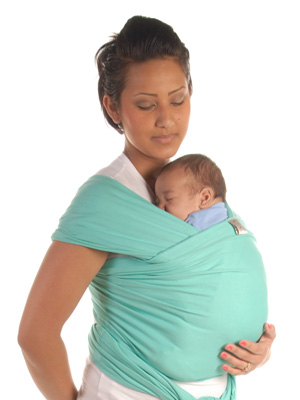 The Moby Wrap lets you hold your baby while distributing weight evenly across your shoulder, back and hips. Great for people with back problems.
The patented Rayosan™ technology by Clariant increases the Sun Protection Factor of fabric without changing the appearance, handle, and "breathability" of it. You can imagine how excited we are to incorporate this technology into the Moby™ Wrap fabric. Using this kind of fabric will offer another layer of protection for baby's sensitive skin, especially before the recommended age of using sunscreen.
Think of the Rayosan™ process as an invisible dye. It acts like a mirror and will deflect the harmful UVA and UVB rays off the fabric. These rays are bounced back and prevented from going through the fabric and harming baby's delicate skin.
Although it is a chemical process, it was tested and passed the Oeko-Tex 100 certification process, which ensures us that it was tested for harmful substances - and passed. We share Oeko-Tex commitment to your personal safety and the support of environmentally sound processes and you can rest assured that the product you have will not harm you or your child.
The dye is considered to be durable for the life or the garment. It is long lasting, but will start to gradually wash out after 30 washes or so. The Rayosan™ coated fabric's UPF value ranges from 44-48.
I am happy to arrange local pickup limited to stock on hand. Moby Wraps sell out quickly, nd some colors are limited editions so if you see a color you like, grab it now!
100% cotton, machine washable.
Our layaway offers you the opportunity to get the products you need on a payment plan. Using cloth diapers saves money, but we understand that getting your initial cloth diaper stash can be hard when you are short on cash. Our cloth diaper layaway plan allows you to spread the cost out over 3 months.
Select the items you need, then use the voucher code "LAYAWAY" when you checkout. You'll only be charged 25% of the cost of your order. I will set your items aside until they are paid for.
You will then be responsible for paying 25% each month for the next 3 months. If you do not finish paying for your order within 90 days you can apply any amount you have paid as store credit or you will receive a refund of current paid amount less a 25% restocking fee.
You can make payments on your layaway items with PayPal by putting "Layaway" and your name in the subject of the payment. The email address for Paypal is lisa@littlefornow.com. You can also pay with check or credit card. Please call us at 1-877-536-0850 for more information.
Certain items are dropshipped (cosleeper, etc.) from the manufacturer. These items are not actually ordered until the payment is made in full. In rare cases a manufacturer may change or discontinue a product during the payment period. If this happens and the product or a reasonable substitute (such as a different color) is not available then a refund will be issued.