FuzziBunz - Perfect Size Pocket Diapers
FuzziBunz are cloth diapers you can TRUST. Recommended by famous "natural parenting" pediatrician, Dr. Alan Greene, FuzziBunz remain one of the most easy to use cloth diapering systems. Plus, they are easy on your wallet and easy on the earth – can't beat that! The snap closures make FuzziBunz one of the most durable cloth diapers on the market. And the company knows cloth diapering as its founder invented the pocket diaper! FuzziBunz are beloved by hundreds of thousands of moms – so you know you can trust them to work hard for you and your baby! Choose from a variety of colors and tailored sizes. Buy FuzziBunz today!
FuzziBunz are reusable cloth diapers that includes three layers: 1) a waterproof outer barrier to keep wetness contained, 2) a soft microfleece inner layer that touches a baby's skin and pulls away moisture, and 3) a unique, pocket-style opening that enables a parent to customize the absorbency using super absorbent micro-terrycloth pads.
Soft, waterproof outer barrier keeps wetness contained.

100% Polyester microfleece inside touches baby's skin and wicks moisture away keeping baby rash free, dry, and comfortable. Our microfleece is custom milled.

Multi-sized diapers allow you to choose the best size for your baby for a custom-like feel.

Adjustable snap settings grow with your baby!

A wide array of color choices make diapering fun!

Unique Pocket-style opening allows you to customize the absorbency your baby needs. Stuff the pocket with our inserts, a prefold, even a hand towel!

All elastic is encased inside the diaper, no rough elastic will ever rub on baby's tender skin. Stitching around the elastic creates 'Mini Gussets' to keep messes where they belong.
All FuzziBunz Perfect Size Diapers come with a Mother of Eden microterry insert.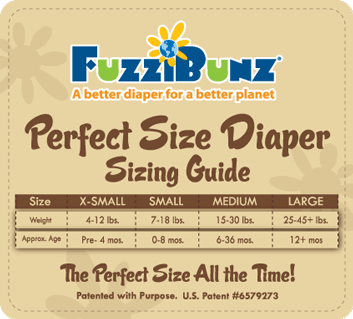 Our layaway offers you the opportunity to get the products you need on a payment plan. Using cloth diapers saves money, but we understand that getting your initial cloth diaper stash can be hard when you are short on cash. Our cloth diaper layaway plan allows you to spread the cost out over 3 months.
Select the items you need, then use the voucher code "LAYAWAY" when you checkout. You'll only be charged 25% of the cost of your order. I will set your items aside until they are paid for.
You will then be responsible for paying 25% each month for the next 3 months. If you do not finish paying for your order within 90 days you can apply any amount you have paid as store credit or you will receive a refund of current paid amount less a 20% restocking fee.
You can make payments on your layaway items with PayPal by putting "Layaway" and your name in the subject of the payment. The email address for Paypal is lisa@littlefornow.com. You can also pay with check or credit card. Please call us at 1-877-536-0850 for more information.
Certain items are dropshipped (cosleeper, etc.) from the manufacturer. These items are not actually ordered until the payment is made in full. In rare cases a manufacturer may change or discontinue a product during the payment period. If this happens and the product or a reasonable substitute (such as a different color) is not available then a refund will be issued.