Flip Disposable Inserts - 18 Pack
Features:
Compatible with Flip Diaper Covers.
Insert folds down to adjust size.
Oeko-Tex® certified to be free of harmful substances.
Thin and absorbent design is great for travel and stocking diaper bags.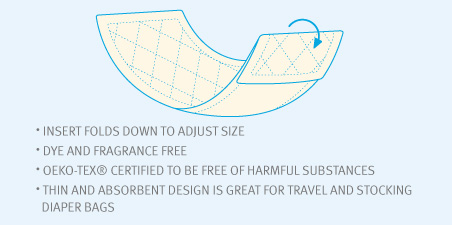 Diapers For Any Baby
Real life demands flexibility. With the Flip™ hybrid diaper system, parents can choose from three absorbent inserts to meet their changing needs. With Flip you are free to change it up and enjoy life wherever you go!
Cloth Diaper in Three Easy Steps
1.Choose the best insert for your needs: stay dry, organic or disposable.
2.Toss the used insert in your diaper pail.
3.Wipe cover clean and reuse.
Insert Disposal
Flush solid waste before disposing of insert.
Insert Content
9g Non-Woven Bamboo Viscose
19-20g Wood Pulp
2.5g SAP
1g Starch-Based Glue
Items Included
18 disposable inserts. Cover sold separately.
CAUTION
TO AVOID SUFFOCATION, KEEP PLASTIC AWAY FROM YOUR BABIES AND CHILDREN.DO NOT ALLOW YOUR CHILD TO TEAR THE INSERT OR HANDLE ANY LOOSE PIECES OF THE INSERT TO AVOID RISK OF CHOKING. Inserts contain a small amount of gel-like material. It shouldn't escape, but if you notice any of this on your baby's skin, simply wipe clean with a soft, dry wipe.
Note: Flip products may only be shipped to United States addresses (including territories and military addresses)
Our layaway offers you the opportunity to get the products you need on a payment plan. Using cloth diapers saves money, but we understand that getting your initial cloth diaper stash can be hard when you are short on cash. Our cloth diaper layaway plan allows you to spread the cost out over 3 months.
Select the items you need, then use the voucher code "LAYAWAY" when you checkout. You'll only be charged 25% of the cost of your order. I will set your items aside until they are paid for.
You will then be responsible for paying 25% each month for the next 3 months. If you do not finish paying for your order within 90 days you can apply any amount you have paid as store credit or you will receive a refund of current paid amount less a 25% restocking fee.
You can make payments on your layaway items with PayPal by putting "Layaway" and your name in the subject of the payment. The email address for Paypal is lisa@littlefornow.com. You can also pay with check or credit card. Please call us at 1-877-536-0850 for more information.
Certain items are dropshipped (cosleeper, etc.) from the manufacturer. These items are not actually ordered until the payment is made in full. In rare cases a manufacturer may change or discontinue a product during the payment period. If this happens and the product or a reasonable substitute (such as a different color) is not available then a refund will be issued.