Please only add 6 diapers (or 12, or 18) to your cart. Our cart will automatically add the free diaper(s). Please correct the color of the free diaper to what you want. Free diapers must be SOLID. You may purchase solids or prints to get the free diaper.
bumGenius 4.0 One-Size Cloth Diaper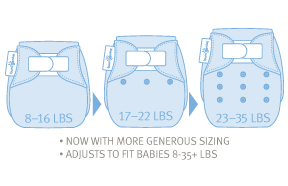 This is one of our top selling pocket diapers.
Features:
NEW! Generous sizing accommodates larger babies.
NEW! Easily replaceable elastic keeps your diapers fresh.
3x3 snap down design* adjusts the sizing to fit small, medium and large sizes (approximately 7-35+ pounds).
Trim, snug and comfortable stretchy tabs* provide a custom fit.
Waterproof insert stopper* prevents leaking at the tummy.
Diapers are bundled with two inserts: a newborn insert for newborns and a one-size insert for your older baby.
Wide slot opening makes it easy to stuff and remove insert.
Slot cover* protects your baby from wetness.
All bumGenius One-Size Cloth Diapers include a small, lightweight insert for newborns and a larger one-size insert for your growing baby. When your baby outgrows the newborn insert, it works as an overnight booster or as extra absorbency for heavy wetters.

Cloth diapering has never been so easy!
bumGenius One-Size Cloth Diapers feature our patent pending butterfly closure system to provide a comfortable, trim fit. This simple design makes cloth diapering as easy as using disposables. The familiar design makes bumGenius one-size cloth diapers perfect for care providers who might be resistant to cloth diapering (including daycares).
Less Clutter
bumGenius One-Size Cloth Diapers fit most babies from 7 to 35+ pounds. No more sorting by size or having to carry multiple diapers when going out. Three snap-downs on the front of the diaper* allow you to easily adjust the size of the diaper as your baby grows. For newborns, fold down the insert stopper for an extra-small rise.
Only the Best for Your Baby
The soft, waterproof outer fabric keeps the diaper trim on your newborn and toddler. Soft, sueded inner fabric gently wicks moisture away from your baby's skin. Super stretchy, gentle leg and back elastic with rolled out casings keeps the yuck in and help to keep red marks away. Our unique covered* slot opening keeps your baby protected from moisture.
Quantity Breaks Available! These prices are based on an original price of $17.99
Buy 1-2 $17.99 each
Buy 3-5 $17.70 each
Buy 6-11 $17.45 each
Buy 12 plus $16.95 each
Note: bumGenius products may only be shipped to United States addresses (including territories and military addresses)
Our layaway offers you the opportunity to get the products you need on a payment plan. Using cloth diapers saves money, but we understand that getting your initial cloth diaper stash can be hard when you are short on cash. Our cloth diaper layaway plan allows you to spread the cost out over 3 months.
Select the items you need, then use the voucher code "LAYAWAY" when you checkout. You'll only be charged 25% of the cost of your order. I will set your items aside until they are paid for.
You will then be responsible for paying 25% each month for the next 3 months. If you do not finish paying for your order within 90 days you can apply any amount you have paid as store credit or you will receive a refund of current paid amount less a 25% restocking fee.
You can make payments on your layaway items with PayPal by putting "Layaway" and your name in the subject of the payment. The email address for Paypal is lisa@littlefornow.com. You can also pay with check or credit card. Please call us at 1-877-536-0850 for more information.
Certain items are dropshipped (cosleeper, etc.) from the manufacturer. These items are not actually ordered until the payment is made in full. In rare cases a manufacturer may change or discontinue a product during the payment period. If this happens and the product or a reasonable substitute (such as a different color) is not available then a refund will be issued.